Welcome to DIVA!
Whether you're looking for a new social outlet, a chance to rekindle your competitive spirit, or simply want to be involved in something worthwhile, DIVA is for you. 
The Dallas Independent Volleyball Association (DIVA) is the largest LGBT-friendly not-for-profit volleyball organization in Texas. We offer recreational through extremely competitive play throughout the year. 
[Join DIVA] - New Members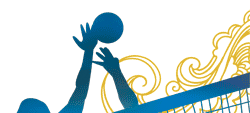 If you are new to DIVA, check out our New Member Clinics page to learn more about how to join the league. We're accepting new members, you just need to attend an evaluation and register! More information is on the "Join" section of our website.  
Please contact vpmembership@divadallas.org if you need more information not covered on the site.     
2016 NAGVA Championships 
Dallas has been selected as the host city for the 2016 NAGVA National Championship Tournament. The Local Organizing Committee (LOC) is headed up by Adam Cebulski. Please contact him at info@divadallas.org if you are interested in being on the committee. There are many positions available that vary in the amount of time commitment. 
Contact him to see what's available! We will announce meetings soon!